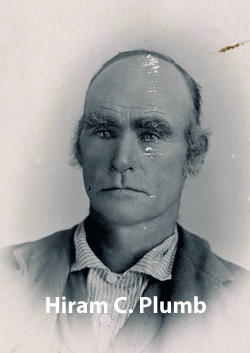 Hiram C. Plumb, son George Plumb and Betsey Claussen, was born December 14, 1833 in Gouverneur, St Lawrence County, New York and died May 11, 1906 in Marion, Nebraska. He married Ellen Mackey on October 8, 1860 in Ogdensburg, St. Lawrence Co., New York (see certificate).
Other events in the life of Hiram C. Plumb (see obituary)
Burial : 1922 Danbury, Nebraska cemetery
Military Service: Enlisted for service at Dexter, NY in Company A of the 35th NY Volunteers Regiment. Injured at the battle of Antietam near the cornfield and one of 43 wounded and 32 killed in his regiment that day. The battle of Antietam was the bloodiest day in US military history with 22,700 dead, wounded and missing. He carried ball in his leg until his death. Discharged June 5, 1863 at Elmer, NY. (see affidavit of service)
Arrival : He lived as boy in Jefferson County, NY. He moved to Portland, Wisconsin in 1850. He returned to New York to marry Ellen Mackey and remained there until 1865 or 1866. They moved back to Portland, Wisconsin and remained there till 1873. They then migrated in a covered wagon to the Beaver Valley after reading of the area in the "Red Willow Gazette" arriving in 1873. They traveled with childhood friend from New York and Wisconsin, James Fisher.
Occupation : Farmer
Land: Homesteaded land east of Danbury, Nebraska in 1874. (see land location and homestead patent). In route to the land they were to homestead, son Tom, discovered three wagons and equipment from the Nelson Buck surveying party. The party of eight surveyors were killed by Sioux Indians in the summer of 1869.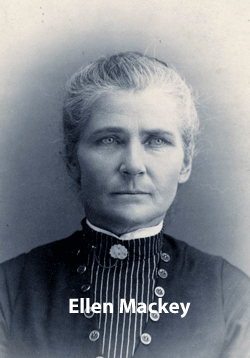 Ellen Macey, son of Thomas Mackey (born in Ireland) ,was born February 6, 1842 in Ontario, Canada and died November 1, 1916 in Danbury, Nebraska.
Other events in the life of Ellen Mackey
Burial : Danbury, Nebraska cemetary
Arrival : She came to Red Willow County with Hiram and four children, Tom, Alice, Betsy and Mary. A friendly Indian tribe settled in the large bend in the creek near their home. Tom made friends with the Indian children.
Occupation : Housewife.
Children of Hiram Plumb and Ellen Mackey:

George Thomas (Tom) Plumb was born 1861 in Wisconsin and died in 1933. Wrote the history of Marion, NE and Red Willow County, NE.
Margaret Plumb was born 1865 and died February 17,1876 in Danbury, Nebraska.

Alice Nash Plumb was born March 11, 1868 and died November 21,1917.

Mary B. Plumb was born 1870 and died May 26, 1960 in Red Willow County. She married John Ambler on January 28,1891.
Louis Plumb was born in January 8, 1874 and died in January 29, 1876 in Danbury, Ne.

Betsey J. Plumb was born 1877 and died in 1971. She married Thomas J. Dimmit. (See photographs)

Nell A. Plumb was born August 7, 1881 and died February 1970 in McCook, Red Willow Count, Nebraska. She married Ernest Centennial Galusha on October 8, 1900 in McCook, Nebraska. (See photographs)