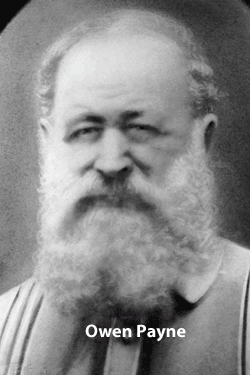 Owen Payne was born about December 25, 1832 in Dublin, Ireland and died March 21, 1907 in Seward, Nebraska. He married Nancy Anne Williams on February 9, 1863 in Davenport, Iowa.
Other events in the life of Owen Payne (see also obituary)
Religion: Catholic
Land: Homesteaded 7 miles southeast of Ashland, Nebraska in1882.
Arrival : Immigrated from Ireland in 1843 at age 11 with an uncle. At about age 21 traveled through southern states. Settled in Davenport, Iowa about 1859. Returned to Ireland to visit birth place and relatives in 1904.
Occupation :
Farmer. (see land record).
Other References: 1870 Cass Nebraska Census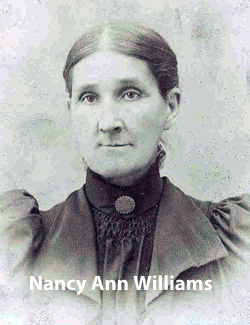 She was born January 14, 1845 in Missouri, daughter of David Williams and Susannah Hughs Kinseloo Thompson, and died January 8, 1921
Other events in the life of N
ancy Anne Wiiliams (see also obituary)
Religion :Catholic
Burial : North Cemetary, Seward, Nebraska
Arrival : Moved as child from Missouri to Scotts County, Iowa.
Occupation : Housewife.
Children of Owen Payne and Nancy Anne Williams
Stephen A. Payne was born June 22, 1864. He married Mary Ellen Maroney.
Mary Susan Payne was born December 11, 1865 in Davenport, Iowa and died February 26, 1944 in Oberlin, Kansas.
Bertha Payne was born February 5, 1867 in Nebraska. She married Stanley Landon.
Everett Payne was born in 1870.
Gertrude Alice Payne was born May 13, 1872 in Seward, Seward, Iowa and and died on July 3, 1909 in Bayard, Guthrie, Iowa. She married John M. Kelly.
Calista (Callie) Magnalene Payne was born about 1876 and died on April 14, 1970.
She married Edward M. Maroney about 1902. (See photograph)
Robert E (Bob) Payne was born June 8, 1884 and died on August 23, 1906 at age 22.
Cora Payne was born in 1879. She married Will Baldwin.
Willie Payne died at age 7.