Anthony Percival "Peter" Beach
, son of Ebenezer Beach

and

Sally A (Sarah) Kelly, was born November 9, 1836 in

Burlington, Bradford County, Pennsylvania

and died

September 16, 1918

in

Bloomington, Franklin County, Nebraska

.
He married Ann Philura Shiner on May 23, 1861 in Burlington, Bradford County, Pennsylvania.
Other events in the life of Anthony Percival Beach (also see 50th wedding anniversary article and family history)
Occupations : Owned a sawmill and farmed in Bradford County, Pa and then farmed and raised cattle in Franklin County, Nebraska. He was appointed to be the postmaster of Ashgrove, Franklin County, NE in March 1876.
Residences: In 1860, Peter was head of household in West Burlington living with his three youngest brothers, James, Alonzo and Horatio. Peter Beach was raised in Bradford County, Pennsylvania were he met and married Ann Shiner. There they had four children before moving to Nebraska in 1873. They made this journey by train as far as Kearney, NE and then by covered wagon to Ashgrove Township, Franklin, County. Here they homestead land (see location and land patent) and purchased additional land in the adjacent township (see deed). The initial residence was a sod house built by Peter on their land claim. Late in life, the moved in with their daughter, Susan Beach Rogers, after her husband, Jonathon died in early 1917.
Burial : Moline Cemetery, Ash Grove, Franklin County, Nebraska.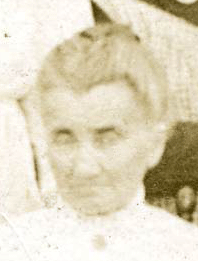 Ann Philura Shiner, daughter of Lewis Shiner and Eliza Ann Taylor, was born October 19,1842 in Burlington, Bradford County, Pennsylvania and died August

22, 1918

in Norton, Norton County, Kansas.

Other events in the life of Ann Philura Shiner

Occupations : House and farm wife.

Residences: When she was four years old her mother died five days after giving birth to her brother, William P. Shiner. For the next six years she lived with her maternal grandmother until her father remarried.

Burial: Moline Cemetery,

Ash Grove Township, Franklin County, NE

Children of Anthony "Peter" Beach and Ann Philura Shiner

Eliza Sarah Beach was born April 4, 1862 and died on September 23, 1888 near Ash Grove, Franklin Co, NE.

Lura Elizabeth Beach was born November 6, 1863 and died August 16, 1851 in Franklin County, Nebraska.

Susan Mary Beach was born July 15, 1866 and died October 8, 1932. See married Carl Frederick on March 26, 1893.

Warren Lewis Beach was born July 27, 1872 in Burlington, Bradford Co., Pennsylvania and died September 11, 1936. He married Mary Jane Treat on March 14, 1894.

Caroline "Carrie" Beach was born September 8,1874 in Nebraska. She married Andrew M Pitt on June 30, 1909.

Charles H. Beach was born March 9, 1877 in Naponee, Nebraska and died September 23, 1900 in Manilla, Phillipines. He enlisted in the Army for the Spanish American war, contracted typhoid fever and died from complications.