Bivans Corcoran Family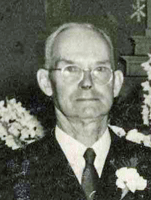 John Webster Bivans, son of Joseph Bivans and Sarah E Gee was born December 25, 1882 in Oberlin, Decatur County, Kansas and died December 1969 in Arvada, Jefferson County, Colorado.
He married Hanora Anna Corcoran on May 4, 1908 in Decatur County, Kansas. (see license)
Other Events in the Life of John Webster Bivans
Occupations : Owned grocery store, farmer, banker and butcher.
Religion: Catholic
Description: Tall, slender with blue eyes and black hair.
Residences: He was born and raised in Decatur County, Kansas where his father was a farmer. He was a butcher and grocery store owner in Oberlin, Kansas from about 1906 to July 1944. (See newspaper article.) John Bivans owned the Oberlin meat market in the Oberlin Mercantile from about 1906 to 1913. He and Earl O'Toole purchased the H.J. Hitchcock store in 1915. By the end of 1915 John Bivans was the sole proprieter of central meat market and grocery. John and Anna sold the store in 1922 and John worked as a banker and officer in the Farmers National Bank in Oberlin for four years. In 1927, they bought the Hitchcock store and returned in business. John is fondly remembered by author Ralph Moody in several citations in his book, Horse of Another Color. See photograph of the home in which John and Anna lived in Oberlin, Kansas below. This home and grounds at 201 West Ash in Oberlin covered half of a city block and was built by John and Anna Bivans in 1920. In 1948, John and Anna retired to a home with acreage in Arvada, Colorado, where he raised rabbits, chickens, fruits and vegetables.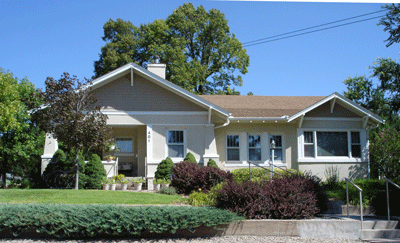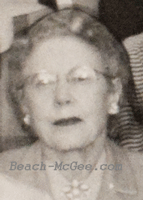 Hanora Anna Corcoran, daughter of Timothy Corcoran and Sarah Elizabeth Slaven, was born September 30, 1886 in California and died on September 7, 1958 in Arvada, Jefferson County, Colorado.
Other events in the life of Honora Anna Corcoran
Occupation: Housewife, teacher and book keeper and store keeper for the family business.
Religion: Catholic
Children of John Bivans and Anna Corcoran
They did not give birth to any children but raised Anna's sister's two girls (below) from 1932 onwards when their mother died. At the time of their mother's death, all four grandparents of the Corcoran children had passed away.
John and Anna Bivan created a trust fund to be used towards the education of the children of Gladys, Eva and Cleo Corcoran.

Gladys Elizabeth Corcoran was born in January 11, 1929 in Bassetville, Decatur County, Kansas and died on August 17, 2006 in Antioch, California. After the death of her mother, she and Eva were raised by her aunt, Anna (Corcoran) and John Bivans. She married Henry Joseph "Hank" Madden on January 22, 1949.

Eva Marie Corcoran was born on November 27, 1930 in Oberlin, Decatur County, Kansas and died February 23, 1973 in Denver, Colorado. She married David James McGee on July 27, 1948 in Denver, Colorado.