Hare Olmstead Family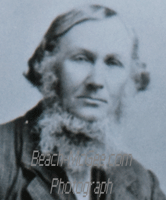 James B. Hare, son of Nicholas Hare and Mary Rice, was born August 4, 1824 near Syracuse, New York and died April 4, 1908 in Albion, Marshall County, Illinois.
He married Betsy Olmstead on October 1, 1848 in De Kalb County, Illinois.
Other spouses: He married Louisa B. Clapsaddle, widow of Robert L. Olmstead who was killed in the civil war, March 10, 1872 in De Kalb County, Illinois.
Residences: He moved with his family to Summit County, Ohio when he was 14 years old. He went west to De Kalb County, Illinois at the age of 21. In 1854, the Hare family relocated to Butler County, Iowa with several other families.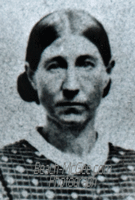 Betsy Olmstead, daughter of Isaac Lewis Olmstead and Elnora Owens, was born January 25, 1825 in Oneida, Tioga County, New York and died about 1872 in Butler, Iowa.
Residences: Her family relocated from Chemung County, New York in 1837 to LaSalle County, Illinois and then one year later to Shabonna Grove, De Kalb County, Illinois.
Children of James B. Hare and Betsy Olmstead
Eleanor Hare was born September 1, 1849 in De Kalb, Illinois and died May 11, 1881 in Bayard, Guthrie County, Iowa.
Celina R. Hare was born in 1854.
Maritta Hare was born October 9, 1858 and died November 1859.
Lila A. Hare was born about 1861.