Benjamin Olinger
Benjamin Olinger was born in November 3, 1808 in Maryland son of Johan George Olinger and unknown and died January 25, 1854 in Westmilton, Miami Co., Ohio. He married Elizabeth Warner on October 16, 1834 in Montgomery County, Ohio.
Other References: See 1850 Census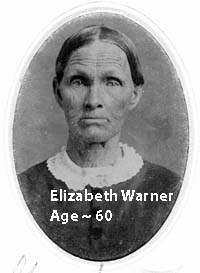 Elizabeth Warner was born July 6, 1814 in Westmilton, Miami County, Ohio daughter of Henry Warner II and Elizabeth Fockner Nicodemus. She died August 15, 1877 in Knoxville, Knox County, Illinois.
Other events in the life of Elizabeth Warner
Other Spouses : Booher
Burial : Knoxville Cemetery, Section 7 - 1, Knoxville, Knox County, Illinois, lat 40.917015 long 90.283413 (See photograph)
Arrival : Moved from Miami County, Ohio, to farm on section 20, Knox Township, Knox County, Illinois in 1863.
Occupation : Housewife.
Children of Benjamin Olinger and Elizabeth Warner
Sarah Olinger
was born about 1835 in Ohio. She married an unknown Gillum.
Susannah (Susan) Olinger was born December 16, 1838 in Ohio and died March 31, 1909 in Cameron, Warren County, Illinois. She married David Fair December 4, 1857 in Ohio.
Esther Olinger was born February 16, 1841 in Randolph, Ohio and died June 18, 1889 in Bee, Nebraska.
Lydia Olinger was born about 1846. She married an unknown Francis.
Henery Olinger (photograph)was born August 1848 in Ohio. He married Sarah F. (Sadie) Hendricks.
Joseph R. Olinger (photograph) was born February 5, 1851 in Miami County, Ohio and died December 24, 1924 near Nortonville, Jefferson County, Kansas. He married Mary Emiline Casebier on September 24, 1879.
Benjamin Olinger was born June 1954 in Ohio. He married Laura P Cranston about 1886.