Fenton McGee aka James Fenton Hopkins, son of Rebecca Hopkins, was born about 1835 in either Maryland (census records) or Ireland (draft registration) and died in 1867 in Galesburg, Illinois. He married Esther Olinger on September 13, 1857 in Miami County, Ohio.
Other events in the life of Fenton McGee
Burial : unmarked grave Galesburg, Illinois (died of tuberculosis)
Childhood: He was orphaned at the age of 13 when his mother died. At age 15, Fenton was living with James and Ann Waters family, Middletown, Frederick County, Maryland.
His surviving brother and sister were living with different farming families in the Middletown district of Frederick County in 1850.
Occupation : Owned butcher shop, Fair and McGee in Abingdon, Illinois, 1864 -1865 (income tax records). David Fair, business partner, was the spouse of Susannah Olinger, Esther Olinger's sister.
Other References: See 1850 Census, 1860 Census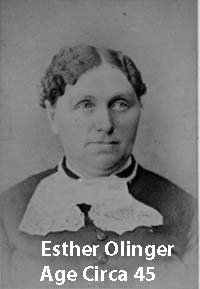 Esther Olinger was born February 16, 1841 in Randolph, Montgomery County, Ohio and died June 18, 1889 in Beetown (now called Bee), Seward County, Nebraska daughter of Benjamin Olinger and Elizabeth Warner.
Other events in the life of Esther Ohlinger
Other Spouses : Francis Ellsworth McClellan
Burial : (East) Union Cemetery, Bee, Nebraska (See photograph)
Arrival : Lived in Ohio till 1863 then moved to Abingdon, Illinois till about 1866 when the family moved to Galesburg, Illinois. After death of her mother in 1877, she left Frank McCllellan and moved to Bee, Nebraska circa 1880 with 8 of 9 children accompanied by one of her brothers.
Occupation : Housewife.
Children of Fenton McGee and Esther Olinger

Charles 'Charley' Eugene McGee was born July 10, 1857 in Ohio and died December 7, 1929 in Bernice, Delaware County, Oklahoma.
(See photograph). He married Addie Madison Parsons in 1890 in Seward, Nebraska.
Frances 'Fannie' Evelyn McGee was born 1 August, 1860 in Canton, Stark, Ohio and died 1947 in Luna County, New Mexico.
(See photograph). She married Singleton 'Bud' Buenavista Rhea on October 28, 1883.
Elizabeth "Lizzie" Rebecca McGee was born October 25, 1863 in Westmilton, Miami County, Ohio and died October 9, 1950 in De Long, Knox County, Illinois.
She married George Ellsworth Cramer on October 14, 1885.

James Fenton McGee was born May 20, 1865 in Abingdon, Illinois and died November 30, 1942 in Holdrege, Nebraska.