Frank McCllelan was born in November 1844 in Ohio and died July 13, 1907 in Knoxville, Knox County, Illinoia. He married Esther Olinger on June 9, 1869 in Galesburg, Knox County, Illinois.
Other events in the life of Fenton McGee
Burial : Knoxville Cemetery, Knoxville, IL, Section VI, Lot 657 in Civil War company plott. (See photograph)
Military: Enlisted in Illinois Infantry Regiment 102, Company H, Knoxville, IL on August 13, 1862 and mustered out in Chicago, IL June 6, 1865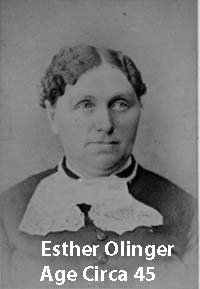 She was born February 16, 1841 in Randolph, Montgomery County, Ohio and died June 18, 1889 in Beetown (now called Bee), Seward County, Nebraska daughter of Benjamin Olinger and Elizabeth Warner.
Other events in the life of Esther Ohlinger
Other Spouses : Fenton McGee
Burial : Bee, NE (East) Union Cemetery (see photograph)
Arrival : Lived in Ohio till 1863 then moved to Abingdon, Illinois till about 1866 when the family moved to Galesburg, Illinois. After death of her mother in 1877, she left Frank McCllellan and moved to Bee, Nebraska circa 1880 with 8 of 9 children accompanied by one of her brothers.
Occupation : Housewife.
Children of Frank McCllelan and Esther Ohlinger
(see also Fenton McGee and Esther Olinger)
Nellie McClellan was born between June 1867 and June 1868 in Illinois
and died between 1895 and 1900. She married Jim McGrew about 1887 in Seward, Seward County, NE.

Henry E McClellan was born December 2, 1870 in Illinois and died December11, 1960 Bayard, Guthrie County, Iowa.
He married Charlotte Vina Love on December 11, 1895.
George Benjamin McClellan was born August 31, 1872 near Knoxville, Illinois and died January 28, 1932 in Galesburg, Illinois.
He married Ada R. Cowley on September 4, 1895.
Elba (Elbie) McClellan was born October 12, 1875 in Illinois and died in 1959 in Guthrie County, Iowa. He married Juliette Belle Love.
Louis "Lewis" E McClellan was born about 1880 in Illinois. He married Anna Jane Parsons on September 12, 1905.