Greene Anthony Family
James Greene, son of John "The Surgeon" Greene and Joanne Tattershall, was born in 1626 in Salisbury, Wiltshire, England and died April 27, 1698 in Potowomut, Rhode Island. He married Elizabeth Anthony on August 3, 1665 in Warwick, Kent, Rhode Island.
Other Events in the life of James Greene (Also see biography, will and settlement regarding will)
Occupation: Farmer.
Residences and life: He was baptized at St. Thomas Church, Salisbury, England on 21 June 1626. He emigrated to America in 1635 with his parents. (See James passenger list). He was made a freeman of Warwick and Providence plantation in 1647. He was on the roll of freemen in Old Warwick in 1655 and was town clerk in 1661. He was a member of the General Assembly of the Colony between 1660 and 1675. He resided at Old Warwick until the Indian war (1675-6) when the family moved to Portsmouth, where his father-in-law, John Anthony lived. His home in Warwick was burned to the ground during the Indian War. In 1684, he purchased Warwick land and moved to Potowomut, where there was an old mill. The home at Potomomut of James Greene was the birthplace of his great-grandson, Nathanael Green. The land and home stayed in the family for 200 years. (See photograph below)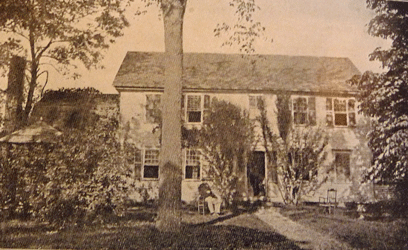 Other spouses: Deliverance Potter (1637-1664) married about 1658 and Sarah Barber(?)
Burial: Old Warwick burial ground.
Elizabeth Anthony, daughter of John Anthony and Susanna Potter, was born in 1646 in Portsmouth Township, Newport, Rhode Island and died October 27, 1698 in Warwick, Kent, Rhode Island.
Children of James Greene and Elizabeth Anthony
Peter Greene "of Coweset" was born in August 25, 1666 and died on March 12, 1712. He married Mary Fones who was born in 1671 and died in 1708. He married Elizabeth Slocum on February 12, 1695, his brother David's wife's sister.
Elizabeth Greene was born October 17, 1668 and died in 1722. She married Francis Reynolds, brother of her two sister's husbands.
Jabez Greene "of Potowomut" was born in November 17, 1673 in Portsmouth, Rhode Island and died on October 1, 1741 in Warwick, Kent, Rhode Island and was buried in Potowomut. He married Mary Barton on March 17, 1698 in Warwick, Kent, Rhode Island. He later married Grace Whitman of Providence on May 23, 1716 following Mary's death in 1712. He inherited the Forge at Photowomut where his son's and grandson's carried out the manufacturing of achors and other iron work until the 1820's. He was the grandfather of Major-General Nathanael Greene.
David Greene "of Jamestown" was born June 24, 1677 in Portsmith, Rhode Island and died January 31, 1761 in Jamestown, Rhode Island. He married Mary Slocum on May 11, 1699 in Warwick, Kent, Rhode Island.
Thomas Greene was born November 11, 1682. He probably died young.
John Greene was born at Potowomut on September 30, 1685 and died December 8, 1757. He married Mary Allen of Dartmouth, Mass on February 16, 1709-10.
Susanna Greene was born May 24, 1686 and died September 25, 1748. She married Joseph Hull, Jr. of Kingston, Rhode Island on February 1, 1712.
Thomas Greene "of Potowomut" was born at Warwick on August 14, 1662 and died in 1690. He married his cousin, Anne Greene, on May 27, 1686. He inherited a large farm on Potowomut Neck, later sold by his grand sons.